I had a spare weekend in London before a work trip in February. I booked late, and rather than spending €€€ on a convenient flight, I took a 7:05am flight from Berlin to Gatwick on Saturday morning.
I thought I'd go for a walk.
There's (fast!) trains from Gatwick to Brighton every 15 minutes or so, and from Brighton, it's a 44 km / 28 mi walk along the coast to Eastbourne, which takes you via the Seven Sisters, a chalk cliff formation protected by an eponymous national park.
I followed a trail called the England Coast Path – it's apparently still under construction and will be 4300km / 2700 miles long when it's done. I walked about 1% of it this trip.
You could walk either of these stages by themselves as day trips from London: there's train stations in Brighton, Newhaven, Seaford, and Eastbourne. I'd recommend the second stage over the first if you were just planning on a day trip, though.
Here are some photos.
Day 1: Brighton → Newhaven → Seaford
22 km / 14 mi / 6 hrs (directions)
A lot of the trails I walk outside Berlin are a mix of lakes, forests and cute towns, and then the occasional cursed five kilometers through an industrial area. As such, I felt right at home walking along the cliffs, then under them, then next to a main road, and then past a business park as I passed through Newhaven. Maybe there are nice parts of Newhaven, but this walk doesn't go through them.
Don't get me wrong – on the whole, this was a nice walk, and there's a well-marked path the whole way! Just there was a 5km stretch or so I was extremely uninspired by, and I feel obliged to mention its existence. It might've also just been that I was hungry and needed to pee, though.
Speaking of which: there's an abundance of supermarkets / places to eat / get coffee / bathrooms on the way – you're walking parallel to, and about 300m removed from a main road for most of the way, so it's very easy to take small detours. The bathrooms are necessary; there aren't otherwise really any places where you're alone enough to sneak off trail.
---
In Seaford, I stayed at the Wellington Inn – my room was not super well maintained, but the food / beers / vibe was great (you can add a full English breakfast for £7.50 per person). The highlight was that one of the regulars who came in that night apparently thought I smelled interesting and sat on my foot while I petted him. His name's Monty, he works as a sniffer dog at Gatwick.
Day 2: Seaford → Eastbourne via the Seven Sisters
22 km / 14 mi / 6 hrs (directions)
This is the 'classic' hike, and I apparently got lucky with the weather.
The day starts with a walk through Seaford. Get your hike provisions and your coffee here, but you'll have food options at the Cuckmere Inn, the Birling Gap Visitor's Centre, and the Beachy Head pub on the way too.
Pretty quickly, you climb a hill that takes you past a golf course and up onto the cliffs. It's spectacular views for the rest of the day.
Every now and again you'd hear someone ask if the holes in the ground along the path were maybe left by badgers, or why the Oystercatchers chose this beach in particular.
Let's take a look at the map real quick: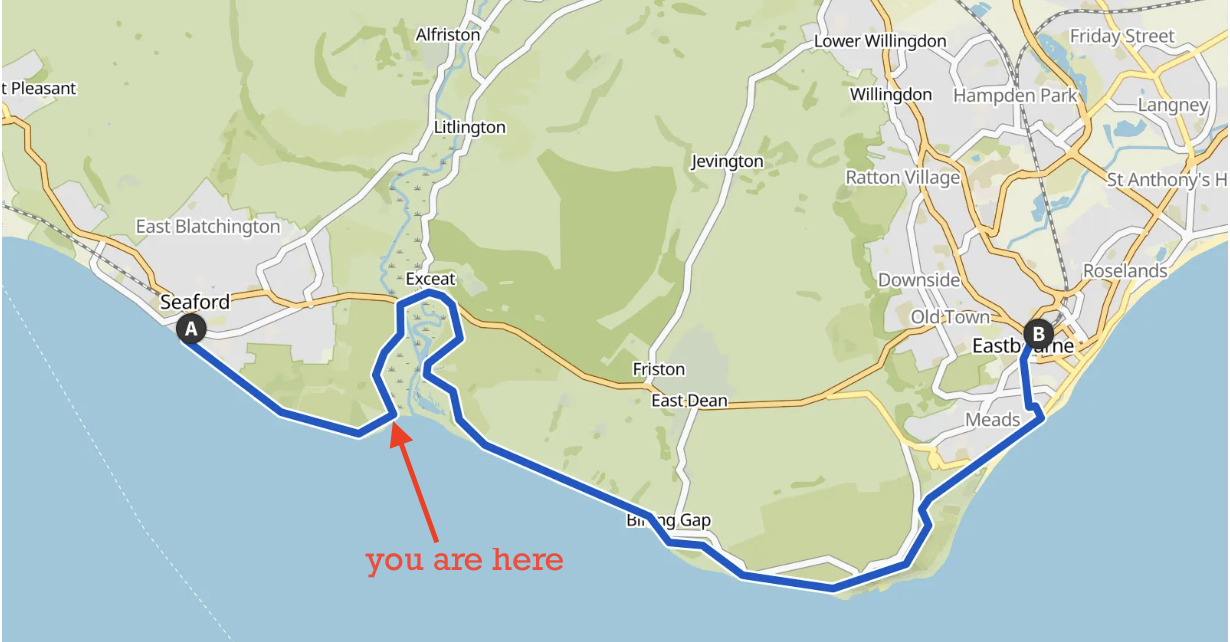 There's a river mouth here. The next 6 km or so loops far enough upstream to come to a bridge, and through wetlands, and it's full of birds. An older lady saw me taking photos and we got talking about the Canada Geese while we walked – and then she told me about six other kinds of birds (Redshanks, Black Gulls,…), and what time of year you see them, and about how sometimes you don't see them, but just hear them, and about how important the wetlands are. I admired the degree to which she knew this place; to which she understood the patterns over the seasons and years.
I don't think I've ever been so struck by the construct of a national park before – it's not specifically about 'nature'; it's about the way that people experience, and interact with, that nature. You see it here on this trail because there are people everywhere, and a great many are attentive to the interconnections within it.
Here, this weekend - it was not possible to take the iconic landscape photo and pretend you're alone. But when the sun's out after a long winter, you don't miss it. It feels like a share in the joy instead.
I stayed at another pub in Eastbourne – The Lamb Inn, in the old town, where I got into a conversation with a group of people who couldn't believe (a) that some random Australian was sitting in their pub (b) that said Australian didn't know who Jason Donovan was, or that Kylie Minogue used to be on Neighbours before she became an international pop sensation.
And then at 6:30 the next morning, I took a train to London for a full week of work.